Wills and Trusts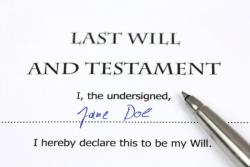 We encourage our clients of all ages to think about having a living will and a will for after they've passed. Far from being a morbid exercise, these documents give you the confidence that your wishes will be carried out as you desire.
A living will expresses your wishes in no uncertain terms when you're unable to speak for yourself during an illness. You can stipulate whether or not to be resuscitated, who is to act as your representative in this decision, and includes the relevant language for hospitals and your doctor.
A will is a vastly more flexible and personalized document. You can specify your funeral arrangements, how your property and assets should be disbursed, and what happens to anything you haven't mentioned. You can also name your executor, or the person who will be in charge of following your wishes.
The process of this disbursement and the laws that govern it fall under the area of trusts and estates. If you're looking for advice on your estate planning and the writing of your will, please do not hesitate to contact our experienced and courteous attorneys. We're here to help.
Why Choose Us?
Appointment flexibility
Free initial consultation
Flat rate fees, no hidden costs
Practicing Family Law for 20 years
Personal attention to clients
Offer mediation to avoid any litigation